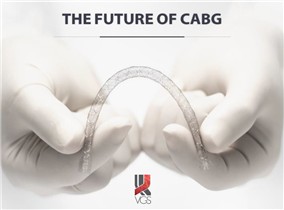 Vascular Graft Solutions The VEST™
---
---
VEST™:  Creating a Hybrid Bypass Conduit
VEST is a novel external scaffold for SVG which creates a hybrid conduit that combines the benefits of both arterial and venous grafts.
The VEST targets the underlying mechanisms of vein graft's intimal hyperplasia and failure by alleviating the vein graft's wall tension and improving its lumen uniformity and flow pattern.
Related Products
Oscor® MP Epicardial Suture-On Pacing Leads

Implantable epicardial pacing lead for permanent stimulation of the myocardium. The MP lead series can only be used during open heart surgery and is available in unipolar or bipolar versions. The specially designed curved thoracic needle allows for the easiest possible epicardial lead placement. The silicone butterfly flanges located on each distal lead tip may be sutured on epicardially to prevent dislodgement.