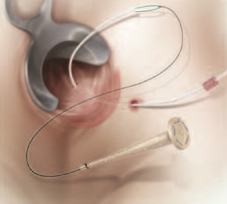 Cook® Biodesign® Fistula Plug Set
---
---
A rolled configuration used for implantation to reinforce soft tissue for repair of anorectal fistulas.
– Biodesign® Fistula Plug (0.6 x 9.5 cm)
– Fistula Brush
– 2.0 Coated PGA suture (70cm) on a UR-6 needle (5/8 circle, taper point, 27 mm)
– 0 Silk suture (45cm)
– Irrigation catheter (5 Fr, 6 cm)
– Luer lock syringe
Related Products
BFW™ Bristol-Plus™

Bristol-Plus™

Lightweight Surgical Headlight with Spot Size Adjustment

The Bristol-Plus™ surgical headlamp provides crystal-clear, consistent illumination and brightness across the entire field of view.

With brightness up to 132,000 LUX at a 10"/25.4 cm working distance, the Bristol-Plus™ banishes shadows, eliminates eye strain, and improves visibility. And with improved occipital support and a lightweight design, the entire system is designed to achieve maximal comfort during long procedures — it almost feels like an extension of the body.

With an extended battery life of up to 10 hours — even at the brightest setting — the Bristol-Plus™ will last for some of the longest and most strenuous procedures.

Bristol-Plus™: the choice is crystal clear.

Note: Please allow 2-4 weeks for delivery.